I was writing a section for the Code Reading followup volume, and wanted to demonstrate the pitfalls of using homebrewn mathematical functions instead of the library ones. As an example, I chose to compare the C library hypot(x, y) function, against sqrt(x * x, y * y). I created a plot of "unit in last place" (ulp) error values between the two functions, which demonstrated how the error increased for larger values of y.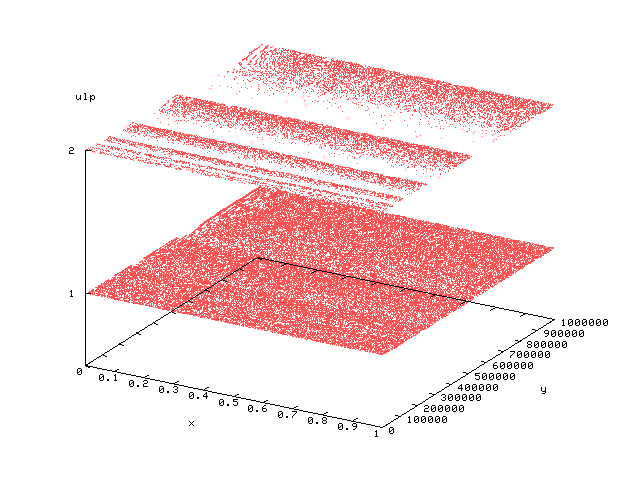 However, I was feeling uneasy. The error distribution was not what I was expecting. First I thought the culrpit was the implementation of the ulp function. I was using David M. Gay's
ulp implementation
supplied with the FreeBSD gdtoa library, and was not sure how it behaved outside the library's domain. I combined it with a small
test stub
, and found that the values it returned were indeed correct. The next step involved educating myself on the intricacies of mathematical function implementation on
William Kahan
's web page, and try some simple tests on hypot. The first test involved writing a
test program
to test hypot on arguments that formed
Pythagorean triplets
(Vasilis Capouleas advised me on the existence of formulas to derive them). Amazingly, the function that returned a non-integer result was not the
sqrt(x * x, y * y)
function, but
hypot()
. The table at the end of this entry summarizes the wrong values for triplets derived from numbers up to 100. I was able to reproduce the errors with both Microsoft's Visual C compiler and the GNU C (Win32 mingw) compiler, both with, and without the "improve floating point consistency" switches (
-Op
and
-ffloat-store
). However, I was unable to reproduce the results on any non-Windows machine: Linux, and several versions of FreeBSD. Preplexed, I searched for the imports of the Windows executable files, and saw that they were importing
hypot()
from MSVCRT.DLL (version 7.0.2600.1106 - xpsp1.020828-1920). Mystery solved. The C99 standard (Section 5.2.4.2.2) states that the accuracy of floating point functions is implementation-defined, so having
hypot()
return a 1 ulp error is allowed by the standard. Still, I find it surprising that with Sun's implementation, which guarantees a return value < 0.97 ulp, freely available since 1993 Microsoft is still distributing a less accurate implementation.
Indicative MSVCRT.DLL hypot() Errors
For a
2
+ b
2
= c
2
(integer a, b, c) the following values generate an error of 1 ulp.
| a | b | c | hypot(a, b) |
| --- | --- | --- | --- |
| 99 | 20 | 101 | 100.99999999999999 |
| 45 | 108 | 117 | 116.99999999999999 |
| 165 | 52 | 173 | 173.00000000000003 |
| 153 | 104 | 185 | 185.00000000000003 |
| 221 | 60 | 229 | 229.00000000000003 |
| 57 | 176 | 185 | 184.99999999999997 |
| 171 | 140 | 221 | 220.99999999999997 |
| 209 | 120 | 241 | 240.99999999999997 |
| 21 | 220 | 221 | 221.00000000000003 |
| 63 | 216 | 225 | 225.00000000000003 |
| 357 | 76 | 365 | 365.00000000000006 |
| 399 | 40 | 401 | 401.00000000000006 |
| 69 | 260 | 269 | 268.99999999999994 |
| 299 | 180 | 349 | 348.99999999999994 |
| 391 | 120 | 409 | 409.00000000000006 |
| 483 | 44 | 485 | 485.00000000000006 |
| 425 | 168 | 457 | 456.99999999999994 |
| 81 | 360 | 369 | 368.99999999999994 |
| 189 | 340 | 389 | 389.00000000000006 |
| 459 | 220 | 509 | 508.99999999999994 |
| 567 | 144 | 585 | 584.99999999999989 |
| 675 | 52 | 677 | 677.00000000000011 |
| 261 | 380 | 461 | 461.00000000000006 |
| 319 | 360 | 481 | 480.99999999999994 |
| 783 | 56 | 785 | 785.00000000000011 |
| 31 | 480 | 481 | 481.00000000000006 |
| 93 | 476 | 485 | 484.99999999999994 |
| 899 | 60 | 901 | 901.00000000000011 |
| 231 | 520 | 569 | 568.99999999999989 |
| 891 | 180 | 909 | 908.99999999999989 |
| 665 | 432 | 793 | 793.00000000000011 |
| 1155 | 68 | 1157 | 1156.9999999999998 |
| 481 | 600 | 769 | 768.99999999999989 |
| 925 | 372 | 997 | 996.99999999999989 |
| 1147 | 204 | 1165 | 1164.9999999999998 |
| 585 | 648 | 873 | 873.00000000000011 |
| 741 | 580 | 941 | 940.99999999999989 |
| 1131 | 340 | 1181 | 1181.0000000000002 |
| 123 | 836 | 845 | 844.99999999999989 |
| 205 | 828 | 853 | 852.99999999999989 |
| 451 | 780 | 901 | 901.00000000000011 |
| 697 | 696 | 985 | 985.00000000000011 |
| 1107 | 476 | 1205 | 1205.0000000000002 |
| 1599 | 80 | 1601 | 1600.9999999999998 |
| 43 | 924 | 925 | 924.99999999999989 |
| 129 | 920 | 929 | 928.99999999999989 |
| 215 | 912 | 937 | 937.00000000000011 |
| 301 | 900 | 949 | 949.00000000000011 |
| 387 | 884 | 965 | 964.99999999999989 |
| 903 | 704 | 1145 | 1145.0000000000002 |
| 1419 | 380 | 1469 | 1469.0000000000002 |
| 1505 | 312 | 1537 | 1536.9999999999998 |
| 45 | 1012 | 1013 | 1013.0000000000001 |
| 1305 | 592 | 1433 | 1432.9999999999998 |
| 1395 | 532 | 1493 | 1492.9999999999998 |
| 1485 | 468 | 1557 | 1557.0000000000002 |
| 1575 | 400 | 1625 | 1624.9999999999998 |
| 1665 | 328 | 1697 | 1696.9999999999998 |
| 1935 | 88 | 1937 | 1937.0000000000002 |
| 141 | 1100 | 1109 | 1108.9999999999998 |
| 329 | 1080 | 1129 | 1129.0000000000002 |
| 1645 | 492 | 1717 | 1717.0000000000002 |
| 1739 | 420 | 1789 | 1788.9999999999998 |
| 1927 | 264 | 1945 | 1945.0000000000002 |
| 441 | 1160 | 1241 | 1241.0000000000002 |
| 1225 | 888 | 1513 | 1513.0000000000002 |
| 1911 | 440 | 1961 | 1961.0000000000002 |
| 2303 | 96 | 2305 | 2304.9999999999995 |
| 1377 | 936 | 1665 | 1665.0000000000002 |
| 1887 | 616 | 1985 | 1985.0000000000002 |
| 2499 | 100 | 2501 | 2501.0000000000005 |
| 689 | 1320 | 1489 | 1488.9999999999998 |
| 1325 | 1092 | 1717 | 1716.9999999999998 |
| 55 | 1512 | 1513 | 1512.9999999999998 |
| 825 | 1400 | 1625 | 1625.0000000000002 |
| 1265 | 1248 | 1777 | 1776.9999999999998 |
| 1375 | 1200 | 1825 | 1824.9999999999998 |
| 2145 | 752 | 2273 | 2272.9999999999995 |
| 2475 | 500 | 2525 | 2524.9999999999995 |
| 2585 | 408 | 2617 | 2617.0000000000005 |
| 2915 | 108 | 2917 | 2917.0000000000005 |
| 399 | 1600 | 1649 | 1648.9999999999998 |
| 513 | 1584 | 1665 | 1664.9999999999998 |
| 627 | 1564 | 1685 | 1685.0000000000002 |
| 855 | 1512 | 1737 | 1736.9999999999998 |
| 1425 | 1312 | 1937 | 1936.9999999999998 |
| 1539 | 1260 | 1989 | 1988.9999999999998 |
| 2793 | 424 | 2825 | 2825.0000000000005 |
| 3021 | 220 | 3029 | 3028.9999999999995 |
| 177 | 1736 | 1745 | 1745.0000000000002 |
| 767 | 1656 | 1825 | 1824.9999999999998 |
| 2183 | 1056 | 2425 | 2425.0000000000005 |
| 2891 | 540 | 2941 | 2941.0000000000005 |
| 3009 | 440 | 3041 | 3040.9999999999995 |
| 3127 | 336 | 3145 | 3144.9999999999995 |
| 3245 | 228 | 3253 | 3252.9999999999995 |
| 3363 | 116 | 3365 | 3365.0000000000005 |
| 549 | 1820 | 1901 | 1901.0000000000002 |
| 671 | 1800 | 1921 | 1921.0000000000002 |
| 1159 | 1680 | 2041 | 2040.9999999999998 |
| 2745 | 848 | 2873 | 2873.0000000000005 |
| 3233 | 456 | 3265 | 3265.0000000000005 |
| 3355 | 348 | 3373 | 3373.0000000000005 |
| 3477 | 236 | 3485 | 3485.0000000000005 |
| 3599 | 120 | 3601 | 3600.9999999999995 |
| 189 | 1980 | 1989 | 1989.0000000000002 |
| 315 | 1972 | 1997 | 1996.9999999999998 |
| 441 | 1960 | 2009 | 2008.9999999999998 |
| 567 | 1944 | 2025 | 2025.0000000000002 |
| 693 | 1924 | 2045 | 2044.9999999999998 |
| 2709 | 1060 | 2909 | 2908.9999999999995 |
| 3087 | 784 | 3185 | 3184.9999999999995 |
| 3213 | 684 | 3285 | 3285.0000000000005 |
| 3591 | 360 | 3609 | 3609.0000000000005 |
| 3843 | 124 | 3845 | 3845.0000000000005 |
| 195 | 2108 | 2117 | 2116.9999999999995 |
| 3315 | 812 | 3413 | 3413.0000000000005 |
| 3445 | 708 | 3517 | 3516.9999999999995 |
| 3965 | 252 | 3973 | 3972.9999999999995 |
| 469 | 2220 | 2269 | 2268.9999999999995 |
| 871 | 2160 | 2329 | 2328.9999999999995 |
| 1139 | 2100 | 2389 | 2389.0000000000005 |
| 2211 | 1700 | 2789 | 2789.0000000000005 |
| 2479 | 1560 | 2929 | 2928.9999999999995 |
| 2613 | 1484 | 3005 | 3004.9999999999995 |
| 3149 | 1140 | 3349 | 3349.0000000000005 |
| 3551 | 840 | 3649 | 3648.9999999999995 |
| 3953 | 504 | 3985 | 3985.0000000000005 |
| 4355 | 132 | 4357 | 4357.0000000000009 |
| 207 | 2376 | 2385 | 2385.0000000000005 |
| 621 | 2340 | 2421 | 2420.9999999999995 |
| 2553 | 1696 | 3065 | 3065.0000000000005 |
| 2691 | 1620 | 3141 | 3140.9999999999995 |
| 2967 | 1456 | 3305 | 3304.9999999999995 |
| 3519 | 1080 | 3681 | 3681.0000000000005 |
| 3657 | 976 | 3785 | 3785.0000000000005 |
| 3795 | 868 | 3893 | 3893.0000000000005 |
| 3933 | 756 | 4005 | 4004.9999999999995 |
| 497 | 2496 | 2545 | 2544.9999999999995 |
| 781 | 2460 | 2581 | 2581.0000000000005 |
| 1349 | 2340 | 2701 | 2701.0000000000005 |
| 3195 | 1508 | 3533 | 3533.0000000000005 |
| 3337 | 1416 | 3625 | 3624.9999999999995 |
| 3621 | 1220 | 3821 | 3820.9999999999995 |
| 3763 | 1116 | 3925 | 3924.9999999999995 |
| 4615 | 408 | 4633 | 4633.0000000000009 |
| 4757 | 276 | 4765 | 4765.0000000000009 |
| 73 | 2664 | 2665 | 2665.0000000000005 |
| 657 | 2624 | 2705 | 2704.9999999999995 |
| 803 | 2604 | 2725 | 2724.9999999999995 |
| 2409 | 2120 | 3209 | 3209.0000000000005 |
| 2555 | 2052 | 3277 | 3277.0000000000005 |
| 2993 | 1824 | 3505 | 3505.0000000000005 |
| 3285 | 1652 | 3677 | 3676.9999999999995 |
| 3869 | 1260 | 4069 | 4069.0000000000005 |
| 4599 | 680 | 4649 | 4648.9999999999991 |
| 1275 | 2668 | 2957 | 2957.0000000000005 |
| 1425 | 2632 | 2993 | 2992.9999999999995 |
| 3525 | 1708 | 3917 | 3917.0000000000005 |
| 3675 | 1612 | 4013 | 4013.0000000000005 |
| 385 | 2952 | 2977 | 2976.9999999999995 |
| 1617 | 2744 | 3185 | 3185.0000000000005 |
| 1771 | 2700 | 3229 | 3228.9999999999995 |
| 2387 | 2484 | 3445 | 3445.0000000000005 |
| 2695 | 2352 | 3577 | 3576.9999999999995 |
| 3157 | 2124 | 3805 | 3805.0000000000005 |
| 3311 | 2040 | 3889 | 3889.0000000000005 |
| 4081 | 1560 | 4369 | 4369.0000000000009 |
| 4543 | 1224 | 4705 | 4705.0000000000009 |
| 4697 | 1104 | 4825 | 4825.0000000000009 |
| 5621 | 300 | 5629 | 5629.0000000000009 |
| 869 | 3060 | 3181 | 3181.0000000000005 |
| 1027 | 3036 | 3205 | 3205.0000000000005 |
| 1501 | 2940 | 3301 | 3300.9999999999995 |
| 2133 | 2756 | 3485 | 3484.9999999999995 |
| 2923 | 2436 | 3805 | 3804.9999999999995 |
| 4977 | 1136 | 5105 | 5104.9999999999991 |
| 5609 | 600 | 5641 | 5641.0000000000009 |
| 567 | 3256 | 3305 | 3304.9999999999995 |
| 729 | 3240 | 3321 | 3320.9999999999995 |
| 1377 | 3136 | 3425 | 3424.9999999999995 |
| 1701 | 3060 | 3501 | 3501.0000000000005 |
| 1863 | 3016 | 3545 | 3544.9999999999995 |
| 2025 | 2968 | 3593 | 3593.0000000000005 |
| 4455 | 1768 | 4793 | 4793.0000000000009 |
| 5103 | 1296 | 5265 | 5264.9999999999991 |
| 6075 | 468 | 6093 | 6093.0000000000009 |
| 6237 | 316 | 6245 | 6244.9999999999991 |
| 747 | 3404 | 3485 | 3485.0000000000005 |
| 1909 | 3180 | 3709 | 3709.0000000000005 |
| 4897 | 1704 | 5185 | 5185.0000000000009 |
| 5063 | 1584 | 5305 | 5305.0000000000009 |
| 5893 | 924 | 5965 | 5965.0000000000009 |
| 6391 | 480 | 6409 | 6409.0000000000009 |
| 6557 | 324 | 6565 | 6564.9999999999991 |
| 6723 | 164 | 6725 | 6725.0000000000009 |
| 935 | 3552 | 3673 | 3672.9999999999995 |
| 1445 | 3468 | 3757 | 3756.9999999999995 |
| 2295 | 3248 | 3977 | 3976.9999999999995 |
| 3145 | 2928 | 4297 | 4297.0000000000009 |
| 3825 | 2600 | 4625 | 4625.0000000000009 |
| 5525 | 1500 | 5725 | 5725.0000000000009 |
| 5695 | 1368 | 5857 | 5856.9999999999991 |
| 6205 | 948 | 6277 | 6277.0000000000009 |
| 6715 | 492 | 6733 | 6733.0000000000009 |
| 87 | 3784 | 3785 | 3784.9999999999995 |
| 609 | 3760 | 3809 | 3808.9999999999995 |
| 957 | 3724 | 3845 | 3845.0000000000005 |
| 1131 | 3700 | 3869 | 3869.0000000000005 |
| 2001 | 3520 | 4049 | 4049.0000000000005 |
| 4263 | 2584 | 4985 | 4985.0000000000009 |
| 4437 | 2484 | 5085 | 5085.0000000000009 |
| 4785 | 2272 | 5297 | 5296.9999999999991 |
| 5307 | 1924 | 5645 | 5645.0000000000009 |
| 5655 | 1672 | 5897 | 5896.9999999999991 |
| 5829 | 1540 | 6029 | 6028.9999999999991 |
| 6351 | 1120 | 6449 | 6449.0000000000009 |
| 6699 | 820 | 6749 | 6749.0000000000009 |
| 6873 | 664 | 6905 | 6905.0000000000009 |
| 7047 | 504 | 7065 | 7065.0000000000009 |
| 7221 | 340 | 7229 | 7228.9999999999991 |
| 7395 | 172 | 7397 | 7397.0000000000009 |
| 89 | 3960 | 3961 | 3961.0000000000005 |
| 267 | 3956 | 3965 | 3964.9999999999995 |
| 445 | 3948 | 3973 | 3973.0000000000005 |
| 979 | 3900 | 4021 | 4021.0000000000005 |
| 3649 | 3120 | 4801 | 4800.9999999999991 |
| 4361 | 2760 | 5161 | 5161.0000000000009 |
| 4717 | 2556 | 5365 | 5365.0000000000009 |
| 5429 | 2100 | 5821 | 5820.9999999999991 |
| 5785 | 1848 | 6073 | 6073.0000000000009 |
| 6141 | 1580 | 6341 | 6340.9999999999991 |
| 6853 | 996 | 6925 | 6924.9999999999991 |
| 7209 | 680 | 7241 | 7241.0000000000009 |
| 7387 | 516 | 7405 | 7404.9999999999991 |
| 7565 | 348 | 7573 | 7573.0000000000009 |
| 7743 | 176 | 7745 | 7745.0000000000009 |
| 1001 | 4080 | 4201 | 4201.0000000000009 |
| 5369 | 2400 | 5881 | 5880.9999999999991 |
| 6097 | 1896 | 6385 | 6384.9999999999991 |
| 6825 | 1328 | 6953 | 6952.9999999999991 |
| 7553 | 696 | 7585 | 7585.0000000000009 |
| 8099 | 180 | 8101 | 8101.0000000000009 |
| 465 | 4312 | 4337 | 4336.9999999999991 |
| 4185 | 3312 | 5337 | 5336.9999999999991 |
| 4371 | 3220 | 5429 | 5429.0000000000009 |
| 4929 | 2920 | 5729 | 5728.9999999999991 |
| 6603 | 1804 | 6845 | 6844.9999999999991 |
| 7161 | 1360 | 7289 | 7288.9999999999991 |
| 7347 | 1204 | 7445 | 7444.9999999999991 |
| 7719 | 880 | 7769 | 7768.9999999999991 |
| 7905 | 712 | 7937 | 7937.0000000000009 |
| 8091 | 540 | 8109 | 8109.0000000000009 |
| 1045 | 4452 | 4573 | 4572.9999999999991 |
| 4275 | 3500 | 5525 | 5524.9999999999991 |
| 5035 | 3108 | 5917 | 5916.9999999999991 |
| 5225 | 3000 | 6025 | 6024.9999999999991 |
| 5605 | 2772 | 6253 | 6253.0000000000009 |
| 5985 | 2528 | 6497 | 6496.9999999999991 |
| 6365 | 2268 | 6757 | 6756.9999999999991 |
| 7125 | 1700 | 7325 | 7325.0000000000009 |
| 7315 | 1548 | 7477 | 7477.0000000000009 |
| 7695 | 1232 | 7793 | 7792.9999999999991 |
| 8075 | 900 | 8125 | 8125.0000000000009 |
| 1649 | 4560 | 4849 | 4849.0000000000009 |
| 2037 | 4484 | 4925 | 4924.9999999999991 |
| 4947 | 3404 | 6005 | 6004.9999999999991 |
| 5335 | 3192 | 6217 | 6217.0000000000009 |
| 5917 | 2844 | 6565 | 6565.0000000000009 |
| 6111 | 2720 | 6689 | 6689.0000000000009 |
| 6499 | 2460 | 6949 | 6949.0000000000009 |
| 6693 | 2324 | 7085 | 7085.0000000000009 |
| 7857 | 1424 | 7985 | 7985.0000000000009 |
| 99 | 4900 | 4901 | 4901.0000000000009 |
| 297 | 4896 | 4905 | 4905.0000000000009 |
| 2079 | 4680 | 5121 | 5120.9999999999991 |
| 3069 | 4420 | 5381 | 5380.9999999999991 |
| 4059 | 4060 | 5741 | 5741.0000000000009 |
| 4455 | 3888 | 5913 | 5912.9999999999991 |
| 5049 | 3600 | 6201 | 6201.0000000000009 |
| 6633 | 2656 | 7145 | 7145.0000000000009 |
| 7227 | 2236 | 7565 | 7564.9999999999991 |
| 7623 | 1936 | 7865 | 7864.9999999999991 |
| 8019 | 1620 | 8181 | 8180.9999999999991 |
| 9603 | 196 | 9605 | 9604.9999999999982 |
Read and post comments
, or share through