In a recent NPR interview the journalist described how I used a mind map to organize my work while I served as Secretary General for Information Systems at the Greek Ministry of Finance. A number of people asked me for more details; if you're interested read on.

Funnily, the mind map entered our discussion with Chana Joffe-Walt, the journalist who took the interview, close to its end. She asked me if there was anything important I wanted to add, and I opened the mind map to quickly review the projects I had been following. On the right you can see an overview of the first three levels of the map.
I started populating the mind map on my first day in office as a way to record, organize, and maintain all the information I was bombarded with. By the day I quit my office, two years later, the mind map had amassed more than four thousand nodes. Its basic structure was simple and remained relatively the same over the two years I served.
People at various departments and offices
Issues
Practices that I could adopt or recommend
Office Information I needed to run my office
Structures
Meetings
The most active part of the mind map was the issues node. There I filed all projects separated under the following nodes: completed, urgent, ongoing, abandoned, and ideas. I would regularly review the ongoing projects node to see items that required my attention. Below you can see the first two levels of this node. The little icons indicate whether a given project was funded by the third or fourth EU Framework Programme or whether it was in-house development. (EU-funded projects involved considerable bureaucracy, while in-house development was chronically short of resources, hence the need to tag the projects using these icons.)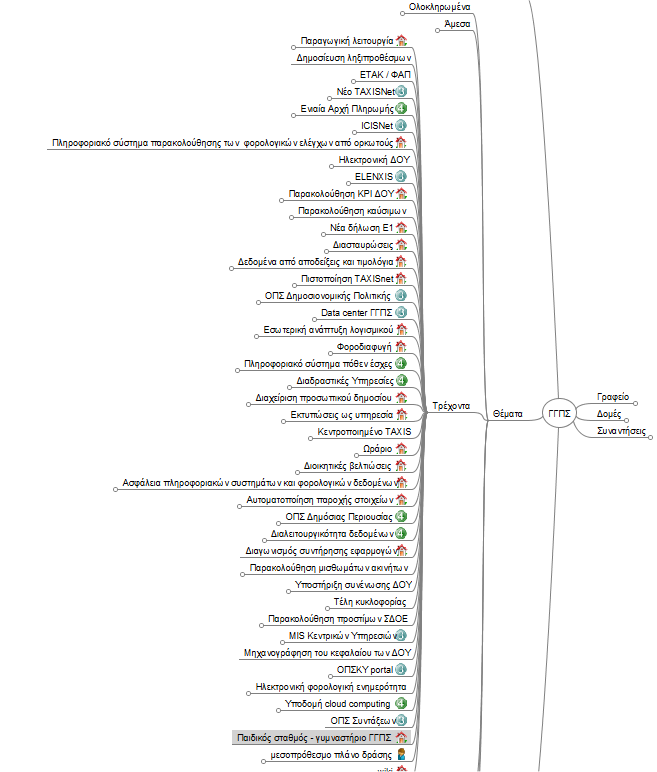 Under structures I imported the complete structure chart of the ministry, helpfully given to me in the appropriate (tab-indented) format by an assistant. Having it in the mind map allowed me to quickly zoom into a department I wanted to work with and find out who was running it. Finally, under meetings I kept my meeting notes. I organized the regular meetings by their name, and I ordered the nodes within a meeting kind chronologically. I used icons to mark nodes with action items and also action items I completed. (Adding a check sign to a completed action item was always a morale booster.)

The mind map proved very useful for viewing the big picture: things I should be following (too many) and things I couldn't afford to to follow (too few). It was also good at storing bits of information too valuable too ignore, but too small to store them in a dedicated file. On the day I handed over my job, I gave the mind map to my successor, hoping it would serve him as well as it had served me.
I created the mind map using the open source FreeMind mind mapping software. Luckily I had learned the mind mapping technique and started using FreeMind a few months before I took on my new responsibilities, when we used a mind map to organize the contents of an in-depth survey of open source software. The mind map allowed us to organize more than 300 references and thousands of concepts and ideas in a structure that we could easily view and reorganize. Below you can see the mind map with some of its elements expanded.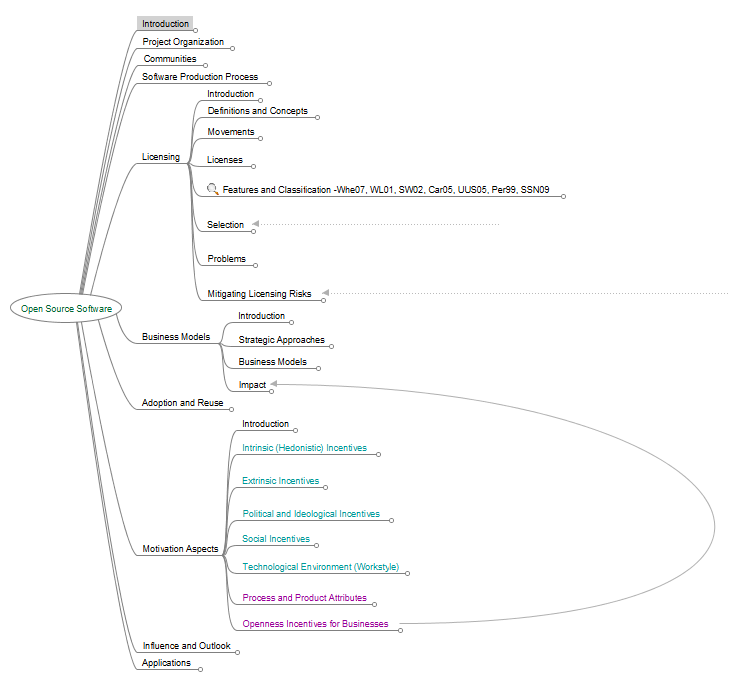 Read and post comments
, or share through