Bill Gates is visiting Athens tomorrow. In his short stay he'll inaugrate Microsoft's so-called innovation center, which is provided as an offset for a deal Microsoft signed with the Greek government for the purchase of 70.000 licenses, and he'll also give a talk on Microsoft's vision for the future of technology. As a prelude to this event the Sunday newspaper Eleftherotypia inset Epsilon has invited a few Greek open-source advocates to give in a few sentences what they would say to Bill Gates during his visit.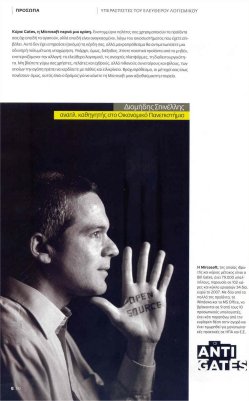 My blurb is probably the least inspired one. However, for the benefit of the readers of this blog who can't read Greek, I've translated it into English, using Greek words to convey all its meanings.
Bill, Microsoft is in a crisis. Myriads harmonize their programs with Microsoft's technologies not for agape but as helots of its hermetic pachyderm ecosystem. This is not an ephemeral problem, but a symptom of an endemic pathology of the monopoly narcotic. As an academic scholar of cybernetics my diagnosis is that these could be the catastrophic tremors of Microsoft's hegemony. Your therapeutic strategy should be to energize your talented hordes out of the isthmus. Have the nerve to architect eclectic systems with pathos for the neon, an ethic of heterogeneity and autonomy, and a policy for eulogizing ecumenical protocols and ontologies. As a tactic emphasize synergies, empathy, and dialogue with your cosmos. Microsoft's plutocracy may antagonize your ideas, but the prognosis is that in a decade a frenetic metamorphosis will dynamize Microsoft's myth and magic.
Comments
Toot!