I'm on my way back from the International BSD Conference in Turkey, which a group of enthusiastic members of our community organized on Friday and Saturday.
This has been a wonderful experience. The conference's location, the Rectorate of the Marmara University, (SultanAhmet, Istanbul), was impressive, and near many even more remarkable sights, the guesthouse of the University were extremely convenient, and the conference's program was had many interesting talks. The translators did a superb job translating from and to Turkish. Our hosts organized our day to the last detail, taming successfully the difficulties we encountered from the city's sometimes chaotic traffic and the daunting (to us) public transport.
Although I've been a (fairly undistinguished) FreeBSD committer since May 2003, at the conference I met for the first time face to face other fellow members of the FreeBSD project: Pawel Dawidek, the person behind the port of the ZFS file system to FreeBSD, and Kris Kennaway, who presented the impressive progress that the release of FreeBSD 7.0 represents.
I found that having free internet access available at the guesthouse, the bakery where we had breakfast, the conference site, and the airport has been a necessity, rather than a luxury. I had neglected to buy a guide, so I relied a lot on Wikipedia, Google Earth, Google Maps, and other sites. I thus found the magnificent Feneryolu running route and used Google's services to write a crib sheet for running there from the guesthouse. The route runs along the waterfront of the Bosporus strait with marinas, beaches, and clubhouses on the one side and expensive-looking residences on the other. It has separate bike and pedestrian tracks and is dotted with openly accessible children playgrounds, benches with poetry written on their backrests, and open-air gyms.
From the event, whose topic were the open source BSD systems, to the community that hosted it (the event was sponsored by the Endersys Consultancy and Software and the local Chamber of Electrical Engineers), to the ubiquitous availability of internet access, to the Feneryolu track, the trip has been a (Turkish) delight of commons.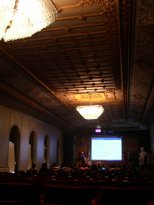 The conference's meeting room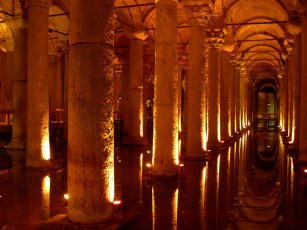 The Basilica Cistern


Turkish books on open source systems on display
Read and post comments
, or share through