The MIT Media Lab is working on a research initiative to develop a $100 laptop. This will be distributed through governments to schools to help the education of the world's students. These are my notes from a talk Michail Bletsas, Director of Computing at the MIT Media Lab gave on the subject, at an event organized by the Netmode Laboratory .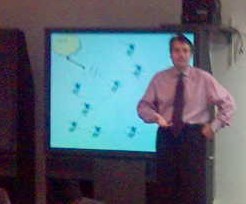 In a laptop today the cost of sales marketing and distribution take up 50% of its retail cost; the display takes up another 25%; the hardware to support the requirements of MS-Windows 25%.
50% of a display's cost is the backlight device.
The laptop should have an e-ink display, but the technology has currently a slow display rate, which is unsuitable for showing video. Therefore now it will use a display with the following features:

Dual mode 7" display
800*600 B&W readable in sunlight
color backlit (with LEDs) 470*350

The laptop should be in production 4Q 2006 (6 million units).
The technical characteristics of the first generation will be as follows:

3W power consumption
500MHz AMD (Cyrix design) 0.5W consumption; supports 500Kbit video decoding.
Crankable charger: 1 min charge 6 min operation
0.5-1GB Flash
128MB RAM
4USB ports
WiFi
Speaker/Mic

The laptop's design should be distinctive in order to avoid the development of a gray market.
The hinge takes inside it C batteries and contains the cranking mechanism. Its large size makes it cheaper (existing hinges cost $5 minimum).
Two joysticks on the left and right side of the display.
In total the physical design allows 6 different modes of use (laptop, handheld, tablet, theater, ...).
Current cost for a 10,000 unit production run $135.
Interference between radio waves is a myth: the problem is simply at the receiver end. With multiple antennas and digital signal processing one can get around the problem. Therefore the current fixed spectrum allocation is outdated.
Bandwidth is a perishable commodity: use it or loose it.
3G networks are the most useless technological effort in history. Yield management could allocate some of the unused capacity for networking the educational laptops
As an aside, SMS messages are bit for bit the most expensive communications technology on the planet.
Laptops will network in a mesh topology.
Microsoft's platform for the educational market is a $400 tablet.
Aspects of the design are patented, to avoid having a company selling the device on the market for $110. (The device will only get distributed to schools through governments.) There is a chance for a $200 retail-version of the laptop; the profits will subsidize the educational effort. Again, the retail version will have a different look, to avoid the risk of educational laptops getting resold for profit.
More information on the project can be found in the corresponding Wikipedia article.
Read and post comments.