System administration
Diomidis Spinellis
Department of Management Science and Technology
Athens University of Economics and Business
Athens, Greece
dds@aueb.gr
Client Workstations
Main tasks:
Installation

Operating system
Applications
Policy configuration

Maxims

Automate
Avoid pre-installed systems

Update operating system and applications
Configure network settings (DHCP)
Servers
Important elements:
Hardware

Internal expansion space
Upgrade path
Input and output
Rack mounting
Exclusive front access
Hot swapping
RAID storage

Maintenance policy
Active backup plan
Installation at the computer centre
Specialised software
Remote access
Separation of operational network from the administration network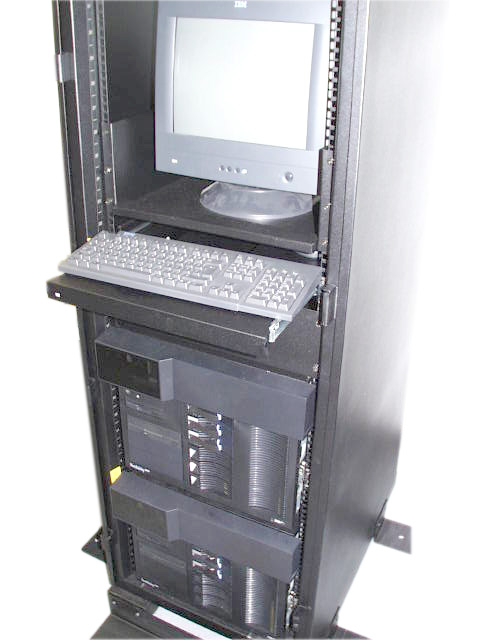 Rack-mounted servers
Services
Basic principles:
Open architecture
Distinguish products vs protocols
Provision the service independently from the server (e.g. mail.company.gr)
Insist on locating the service in the computing centre

Protected power
Cooling and humidity control
Fire suppression
Physical security
Network capacity

Can have multiple servers for the same service
Need mechanism for service monitoring
Expand or organise into one server for each service
Debugging Techniques
Basic strategy:
Understand problem
Find the problem's cause (not the symptom)
Fix the problem
Use appropriate tools
Two basic techniques:
Successive elimination of possible causes (e.g. removing drivers)
Successive refinement of possible causes (e.g. traceroute)
Tool examples:
ping
traceroute / tracert
nslookup
strace / truss / apispy
grep / locate / regedit
"Use the source Luke"
The Fix-Once Principle
Fix the problem, not the symptom
... for ever ...
... without re-inventing the wheel ...
... on all hosts ...
Automation plays a key role in satisfying the above
Namespaces
Namespaces:
Users
Hosts
Network addresses
Files
User groups
Naming policies:
Name types

Formulaic (e.g. pc01, pc02, dspin, gvour, ptsah, gpap02)
Thematic (e.g. thira, naxos, paros, kriti, thasos, samos, ithaki)
Functional (e.g. finance, admin, guest)
Free; first come first served

Longevity policy (when are entries removed?)
Scope policy (where is this namespace to be used? - in terms of geography and services)
Management policy:
Adding new names
Changing names
Removing names
All the above should preferably be centralised
Disaster Planning and Recovery
Disaster types
Acts of god (e.g. earthquake, fire, flood)
Human (e.g. power loss, terrorist act, bulldozer)
budget = disaster cost * disaster probability Actions:
Minimize possibility of damage (e.g. using rack-mounted components makes servers less susceptible to earthquake damage, an uninterruptible power supply (UPS) will guard against power fluctuations)
Preparedness

Disaster recovery plan
Backup data centre
Change Management
Basic principles:
Use version control tools (e.g. CVS, RCS)
Keep a detailed change log
Run regression changing after each change
Notify affected parties before and after the change
RCS Log Example
RCS file: RCS/ppp.conf,v
Working file: ppp.conf
head: 1.10
branch:
locks: strict
dds: 1.10
access list:
symbolic names:
keyword substitution: kv
total revisions: 10; selected revisions: 10
description:
----------------------------
revision 1.10 locked by: dds;
date: 2002/01/21 09:27:15; author: dds; state: Exp; lines: +5 -0
Added CVS pserver rule.
----------------------------
revision 1.9
date: 2001/12/21 07:47:57; author: dds; state: Exp; lines: +3 -3
New phone numbers.
----------------------------
revision 1.8
date: 2001/12/13 07:46:12; author: dds; state: Exp; lines: +6 -5
Disable multilink.
Allow NTP packets.
----------------------------
revision 1.7
date: 2001/11/22 14:44:25; author: dds; state: Exp; lines: +20 -4
Added aueb connection support.
Fixed to work with outgoing ping.
Added missing traceroute roules.
----------------------------
revision 1.6
date: 2001/11/06 19:23:33; author: dds; state: Exp; lines: +16 -6
Blocked SNMP
Contrained application-level data
Fixed cddb.
----------------------------
revision 1.5
date: 2001/11/06 19:22:24; author: dds; state: Exp; lines: +17 -7
Added CDDB, application lelvel data, ...
----------------------------
revision 1.4
date: 2001/02/04 15:04:18; author: dds; state: Exp; lines: +1 -2
Timeout to 2.5 minutes.
----------------------------
revision 1.3
date: 2001/02/03 11:16:06; author: dds; state: Exp; lines: +1 -1
Do not enable DNS, we have our own.
----------------------------
revision 1.2
date: 2001/01/30 23:11:48; author: dds; state: Exp; lines: +168 -11
Added hosts and filters.
----------------------------
revision 1.1
date: 2001/01/20 19:26:15; author: dds; state: Exp;
Initial revision
----------------------------
=============================================================================

Manual Change Log Example

Thu Dec 04 14:20:52 EST 2003
To correct wireless dhcp problems download and install fix KB826942

Tue Dec 24 10:16:13 EET 2002
Enable time serving for Windows clients in smb.conf
 time server = True
From Windows execute: net time /set

Thu Dec  5 09:24:38 EET 2002
build kernels
run mergemaster
make installkernel KERNCONF=SPITI
cp /vol/obj/vol/src/sys/OFFICE/kernel /usr/export/boot

Wed Dec  4 15:15:08 EET 2002
In /usr/src run build and install
co /sys/dev/ata/ata-disk.c
rebuild kernel

Mon Dec  2 12:50:17 EET 2002
In /vol/ports/databases/p5-DBD-SQLite/work/DBD-SQLite-0.21
run perl getsqlite.pl 2.7.3 after manually downloading the file)
After that make, make install

Thu Nov 28 10:02:53 EET 2002
pkg_delete newt-0.50.13 dhcpconf-0.7.0
pkg_delete tcl-8.2.3
make install in /vol/ports/databases/sqlite
(also installed tcl-8.3.5)

Sun Nov 17 13:21:29 EET 2002
Run cvsup -g -L 2 -z supfile
Run cvsup -g -L 2 -z ports-supfile
Install ports/p5-DBI
Install ports/p5-DBD-SQLite

Upgrades
Server upgrade procedure:
Existing services

Services offered by the server
Service users
Software offering the services

Ensure each software element works in the new release
Plan testing procedure for each service
Create back-out plan
Choose maintenance interval
Notify users
Run test plan on existing server
Upgrade (with an assistant)
Repeat tests
If tests fail follow back-out plan
Notify customers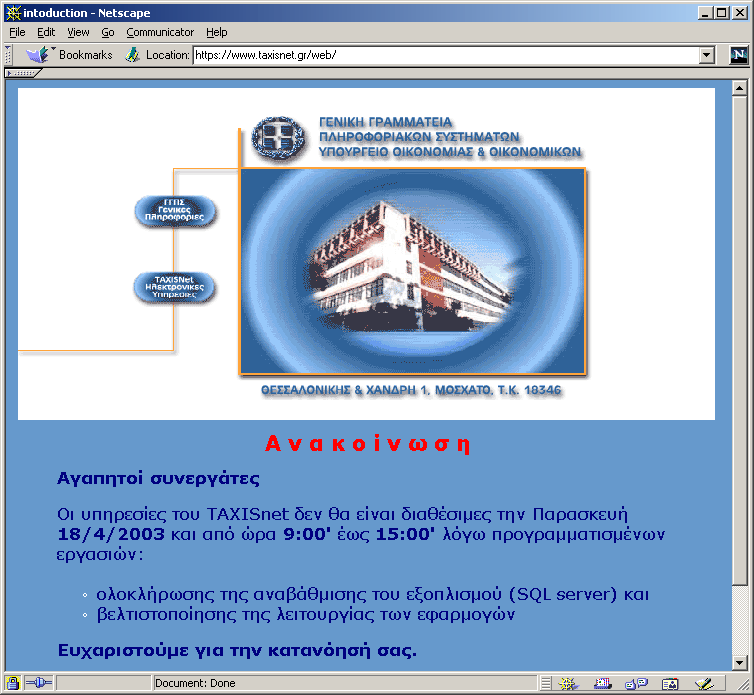 Upgrading TAXISnet
Centralising and Decentralising
We often must decide for or against central or distributed approaches. The following facts can aid our decision:
Reasons to move towards a direction
Problem we want to solve
Try to centrally manage as many elements as realistically possible
Increasing centralisation increases the need for handling special cases
Once a technology becomes widely adopted it also becomes a target for centralised management
A move towards centralised management is like any other change or upgrade, but
... it offers us a unique chance to make a good impression
Listen to customer concerns, but remember that IT should have the last word
Centralised management candidates:
Distributed systems
Consolidate services on less machines
System administration
Infrastructure decisions
Procurement
Support
The Helpdesk Service
To plan a helpdesk service you need to consider:
What is being supported?
Who is being supported?
When is support being provided?
Where is support being provided?
What is the expected response time?
An important element of a helpdesk service is an information system that provides the following functionality:
Registering new requests
Assigning a ticket to each request
Informs management and customers on the progress of each request
Supports an issue lifecycle
Allows searching for issues using various criteria
Example of a Problem Entry Form (Bugzilla)
Search Form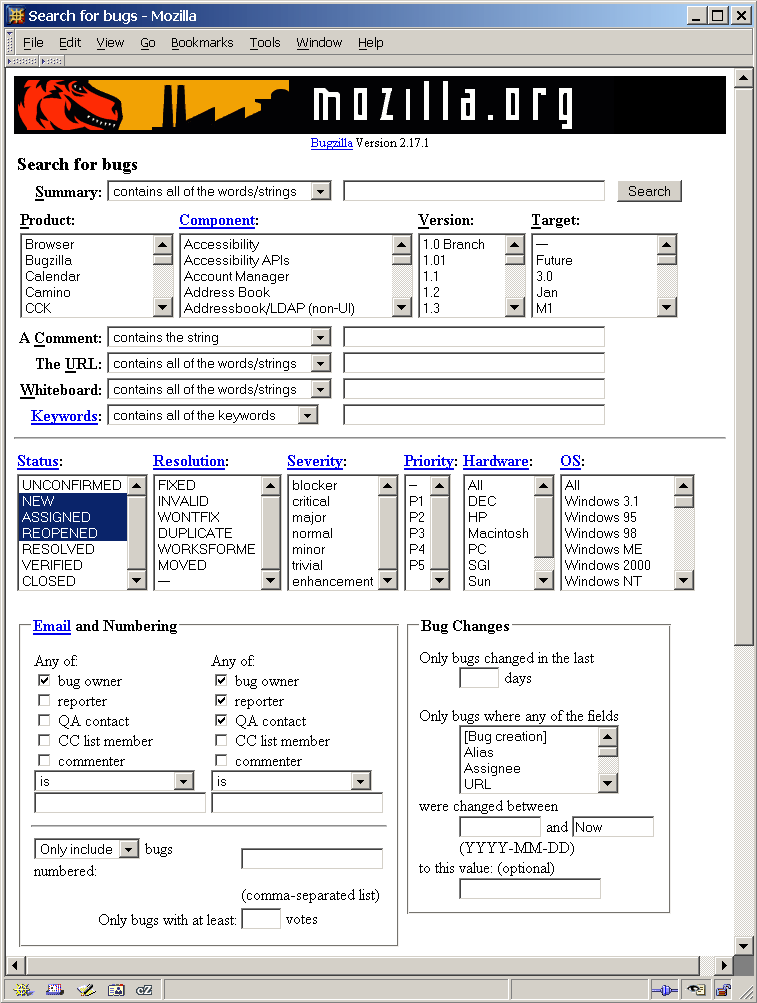 Search Results
Bug #

Dupe
Count

Change in last
7 day(s)

Component

Severity

Op Sys

Target
Milestone

Summary

22274

126

0

Layout

normal

All

---

[INLINE] Too much space (for descenders) under image elements

20618

98

0

Browser-General

major

Windows 98

---

Mousewheel doesn't work with some driver/Win32 OS combinations (scroll, scrolling)

195600

88

0

Installer

critical

Windows 2000

---

browser crashes on startup after install and after xpi install. Installation of 1.4 fails

25537

83

0

Layout

enhancement

All

---

alt text is not displayed as a tooltip

38488

71

0

Networking: HTTP

major

All

---

Proxy:junkbuster is broken - use http/1.0 to get arround this

28586

62

0

Embedding: Docshell

enhancement

All

Future

meta bug - show error pages instead of dialogs for network errors (placeholder page in the content area) (http error pages)

11459

62

0

Preferences

normal

All

---

need option for mailto: to launch external mail app or open a webmail url

105547

62

0

Tabbed Browser

normal

All

---

Windows open in new window instead of tabs (target=<nonexistant_frame>)

69938

59

0

File Handling

critical

All

Future

Downloads are stored in $TMPDIR|$TMP|$TEMP|/tmp first and moved to the selected path after the download finishes

94035

58

1

Plug-ins

enhancement

All

Future

Allow blocking of any media type (flash, plug-in, applet, etc.) by site (like cookies and images)

193638

58

0

Preferences: Backend

normal

All

---

corrupt or lost pref.js / startup configuration error

167663

55

0

XP Apps

critical

MacOS X

mozilla1.0.2

[OS X]window disappears when clicking the maximize button (green +)

104532

53

1

Tabbed Browser

normal

All

---

Status bar ticker fails to update when tabs switched.
Customer Support
The steps:
Greeting
Learn about the problem
Reproduce the problem and agree with the customer
Try the problem
Locate problem resolution proposals
Select solution
Execute solution
Verify solution
Agree with customer that problem has been solved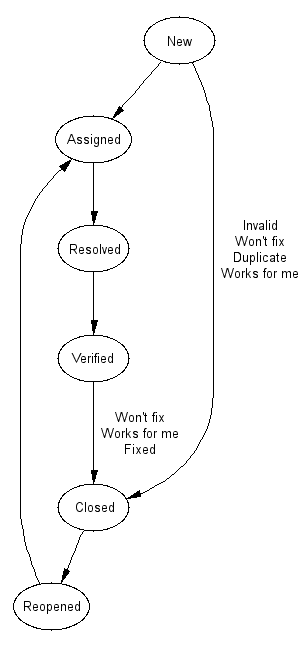 The problem life cycle
Organising the Data Centre
Physical access and security
Rack-mounting
Fire protection
Natural disaster protection
Network provisioning
Raised floor (strong + ramp access)
Power supply (emergency cuto-off)
Air conditioning
Temperature, access, and power monitoring
Labeling
Tools
Workbench
Storage space
Cart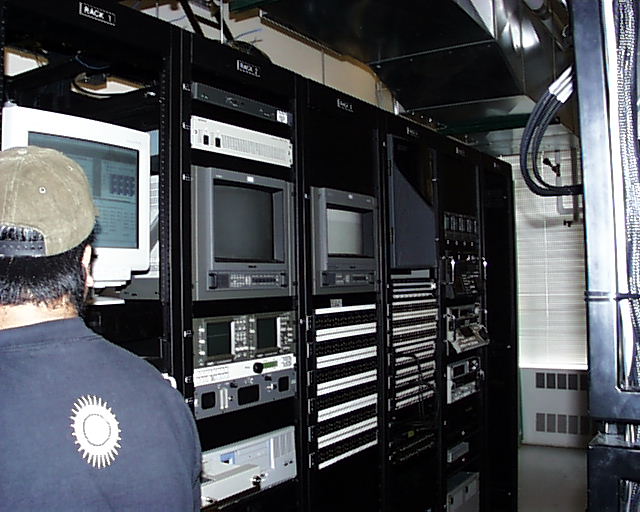 />
Data center Seen outside a data centre:

                        ACHTUNG!!!

Das machine is nicht fur gefingerpoken und mittengrabben.  Ist easy
schnappen der springenwerk, blowenfusen und corkenpoppen mit
spitzensparken.  Ist nicht fur gewerken by das dummkopfen.  Das
rubbernecken sightseeren keepen hands in das pockets.  Relaxen und
vatch das blinkenlights!!!

Network Management
Possible network topologies:
Flat (all elements are at the same level-3)
According to the physical layout of equipment
According to functional requirements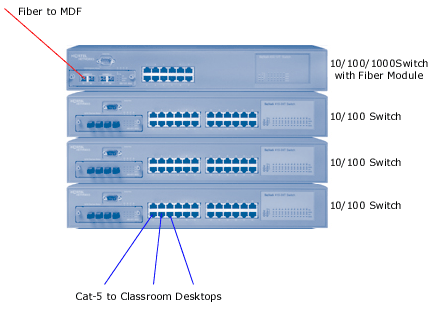 An important element is the "intermediate distribution frame (IDF)
Termination point for all floor's machines
Label each frame with building, floor, and serial number
Label each connection with room number and jack identifier
Example 1/4/2/12A: building 1, floor 4, frame 2, room 12, jack A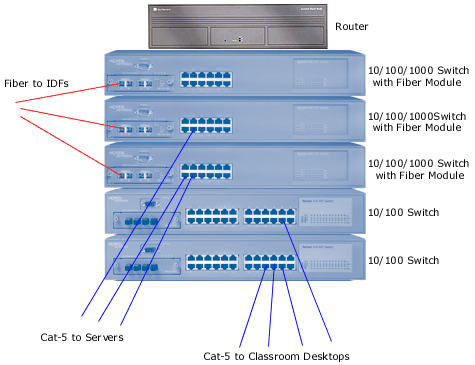 In large buildings a main distribution frame (MDF), often located at the data centre, acts as a central hub. Basic principles:
Simple architecture
Reliable implementation
Labeling and documentation
Use the best wiring you can afford
UPS at the distribution frames
Consistently locate IDFs on each floor
Use clear demarcation points for network providers
Utilise open protocols (IETF, IEEE)
Adopt simple routing
Use specialised routers (not general-purpose computers)
Minimise number of vendors
Avoid bleeding-edge technology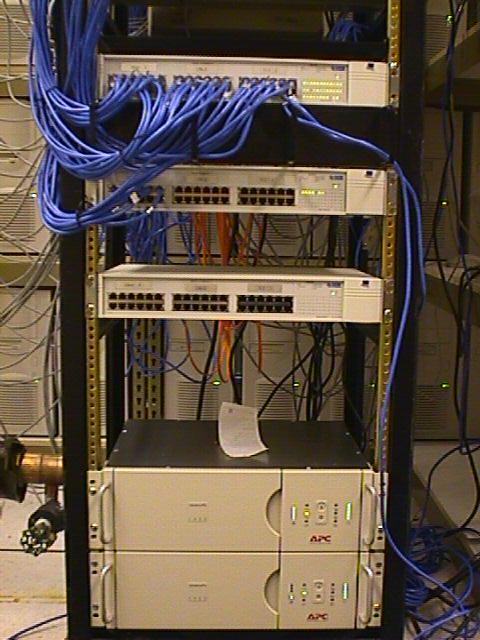 Distribution frame. On the bottom one can see the UPS units.
Email Services
Functional units
Transfer
Delivery
Mailing lists
Basic operational principles:
Simple architecture based on open standard protocols (SMTP, IMAP, POP)
Proper consistent naming and management
Service monitoring (postmaster account)
Personal data protection policy
Security
User education
Spam and virus handling
Backups
Backup copies are required when:
Data is (accidentally) deleted
The main storage medium fails
As a corporate data repository
To optimise the backup process we can distinguish the following types of backup:
Full backup (contains a complete copy of the data - also called level-0)
Incremental backup (often multiple levels - also called level-n)
Every level contains differences from previous level. Ensure that:
Backup copies are stored in a different, but safe location (off-site)
Periodically the ability to recover a single file or a complete disk is verified
References
Discussion Topics
Outline the services offered by your organisation's (or the University's) data centre
Provide an example where the symptom, rather than the cause is corrected
Describe the naming policy and the management procedures for the .gr domain