Application architectures
Diomidis Spinellis
Department of Management Science and Technology
Athens University of Economics and Business
Athens, Greece
dds@aueb.gr
Architectural Dimensions
Design properties
System structure
Control model
Element packaging
Architectural reuse
Basic Design Principles
When designing a system's architecture we try to follow the principles outlined below.
Abstraction
Abstraction is achieved in the following areas:
procedural abstraction
data abstraction
control abstraction
Refinement
Stepwise refinement is a way to tame the details and complexity of the final design.
Modularity
A modular design minimises the system's complexity and thereby the development cost and the number of possible errors. A good design method should provide:
modular decomposability
modular composability
individual modular understandability
modular continuity (in changes: minimize the modules affected by any change)
modular protection: a problem in one part should not create problems in others
Cohesion
A design should bring closely together parts that exhibit a high measure of cohesion. We can distinguish the following ordered types of cohesion:
coincidental cohesion
logical cohesion
temporal cohesion
procedural cohesion
communicational cohesion
sequential cohesion
functional cohesion
Coupling
On the other hand, a design should avoid coupling between parts. We can distinguish the following ordered types of coupling:
data coupling
stamp coupling (copy of a part)
control coupling
common coupling
external coupling
content coupling
A: System Structures
Important and noteworthy system structuring models include the following:
Centralized repository
Data-flow
Object-oriented
Layered
Hierarchical
Centralized Repository
Central process acts as control hub
Central data repository acts as information hub
Termed client-server when based on standalone processes
Integrability allows different clients and servers to interoperate
Depending on persistency requirements:

A blackboard can store temporary data acting as a communications hub
A relational database can provide a persistent data store

In a two-tier architecture the client accesses the database
In a three-tier architecture a separate server offers task-oriented services
A transaction monitor can be used to offer

Resiliency
Redundancy
Load distribution
Message sequencing

Middleware allows different parts to communicate with each other

CORBA (OMG)
.NET (Microsoft)
RMI (Java/Sun)
Examples
Window manager
File server
Print server
Collaboration

WWW
Modern ERP systems
Instant messaging
Revision control (CVS)
Data-Flow
Also known as pipes-and-filters architecture
Consists of a series of data transformations
Examples:

Unix text processing tools (wc, grep, sort, uniq, join)
Netpbm graphics processing package
Create Manual Page Index

Object-Oriented
Design is based on interacting objects
Each object maintains its own state
State is manipulated by methods
Objects are typically grouped into classes
Classes are often organised into generalisation relationships
A generalization relationship in the Tomcat servlet container

Layered
Can organise multiple peer subsystems
Each layer:

Presents a standard interface to its upper layer
Communicates using a different standard interface with its lower layer

Essentially each layer implements a virtual machine
Lower layers shall not use upper layers
Examples:

Network stacks
Operating system structures
The Windows NT implementation layers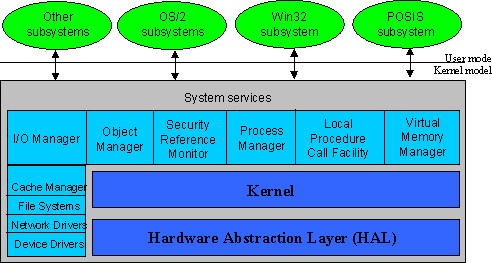 Hierarchies
Hierarchies
provide structure
facilitate navigation
can be used orthogonally with other architectures
examples

directories
DNS
call graphs
identifier namespaces
The NetBSD kernel source hierarchy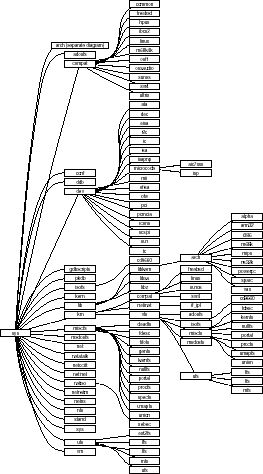 Control Models
Call and return
Structure prescribes control

Flow of data
Method invocation

Event-Driven Systems
System Manager
State Transition
Event-Driven Systems
Control decisions depend on external events
Events can be broadcast to all listeners (e.g. power down)
Events can be polled from a source (e.g. GetMessage)
Handlers can be registered to respond
Examples

Hardware interrupts
GUI systems
Relational database triggers
System and network management
System Manager
Useful for orchestrating multiple (pseudo) concurrent processes
One process acts as central manager
Typical operations:
State Transition
Changes in data (the state) direct the flow of control
Often modelled as a state machine

Set of states
Initial state
Final state
Actions (processing and state transitions)
TCP state transition diagram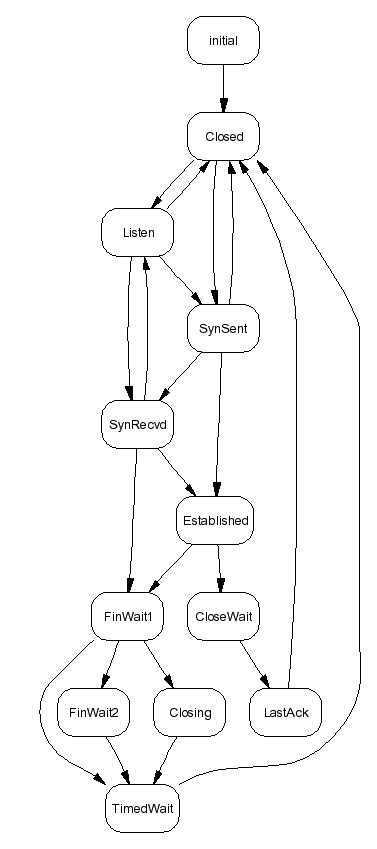 B: Element Packaging Approaches
Elements can be packaged using the following approaches:
Module
Namespace
Object
Generic implementation
Abstract data type
Library
Component
Process
Data repository
Module
Separately named and addressable component
Provides services to other modules
Typically interacts through procedure calls and data sharing
Physical boundary is often a file
Provides information hiding (only exposes what is needed)
Namespace
Counters namespace pollution
Unique prefix associated with a part of the implementation
Supported by languages such as C++, C#, Java, Modula and Perl
Object
Encapsulates data and code
Fields contain data
Methods contain code for acting on the data
Every object has its own copy of the data
Same objects are typically grouped into a class
Classes can also contain data and code shared among all objects
Classes can be organised in an inheritance hierarchy
Each derived class inherits the fields and methods of its base class
Polymorphism allows objects of any derived class to be used as objects of the base class
Generic Implementation
Works with arbitrary data types
Based on concepts a particular element must satisfy (e.g. comparable)
Typically available as standardised library supporting e.g.

Containers
Iterators for traversing the containers
Algorithms on containers
Numeric algorithms
Abstract Data Type
Encapsulates data
Separates interface from implementation
Implementation can change; interface remains
Interface often specified in a formal manner
Examples
Programming in the small:
Programming in the large:

Relational database accessible via stored procedures
Data accessible via the web service model
Library
Organized collection of modules
Sharing a common purpose
Typically distributed in binary form
Uses:

Facilitates code reuse
Optimises the build process
Load application features on demand (plugin)
Component
Self contained unit of program composition
Documented and well defined interfaces
Deployed without access to the original developers
Often distributed and used by third parties
In common with objects

Encapsulate state
Provide access mechanisms through interfaces
Support modular design

In addition

Can be implemented in different languages (although .NET allows this for objects as well)
Robustly packaged in binary containers
Can encapsulate multiple objects (e.g. DataGrid)

Examples
Process
Expensive startup and communication overhead
Robust isolation (OS enforced)

Faults (e.g. buffer overflow problems)
Resources (e.g. open files)
Privileges

Simplifies build process and deployment
Data Repository
Structure of the data reflects the structure of the system
Examples

Relational database
Directory structure
Windows registry
XML data
C: Architectural Reuse
Reusing architectural designs is often more important than reusing code. Some commonly-used approaches are:
Frameworks
Code wizards
Design patterns
Domain-specific and reference architectures
Framework
Collection of classes serving a common goal
Allow the expression of sophisticated architectures
Designed to provide a reuse base for implementing complete systems
Examples

Adaptive Communication Environment
Microsoft Foundation Classes
Abstract Windowing Toolkit
Code Wizard
Automatically generates (often cryptic) code
User-guided
Code is supposed to be subsequently modified
Problematic if initially stated requirements change
Design Patterns
"Each pattern describes a problem which occurs over and over again in our environment, and then describes the core of the solution to that problem, in such a way that you can use this solution a million times over, without ever doing it the same way twice."
- Christopher Alexander
Describe concepts, not code
Finer-grained than frameworks
Typical description

a pattern name such as Singleton or Reactor used to identify the pattern,
an illustration of its structure using a UML diagram,
a classification of the pattern as e.g. creational, behavioural, or structural,
an illustration of the design problem that provides the motivation to use the pattern,
an outline of the situations where the pattern can be applied,
an outline of the pattern's participants,
a description of how the pattern supports its objectives, and
examples and prescriptive guidelines towards the pattern's implementation.
Domain-Specific and Reference Architectures
Some application classes are typically associated with a specific architecture
Other architectures are abstract and refer to a given field
Examples

Compilers
Operating systems
OSI reference architecture
Web services architecture
D: Web Services Architecture
Web Service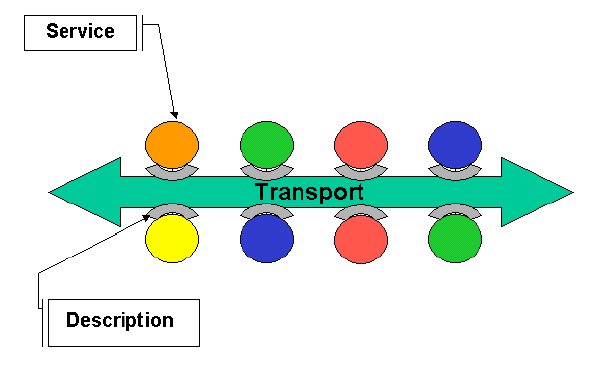 Instance of Service Oriented Architecture
Software system designed to support interoperable networked machine-to-machine interaction
Interface described in a machine-processable format (WSDL)
Interaction through SOAP messages
Conveyed using HTTP with an XML serialization
Web Services Architecture
Standard means of interoperating between different software applications
Applications can run on a variety of platforms and/or frameworks
Interoperability through the definition of compatible protocols
Roles of Humans and Machines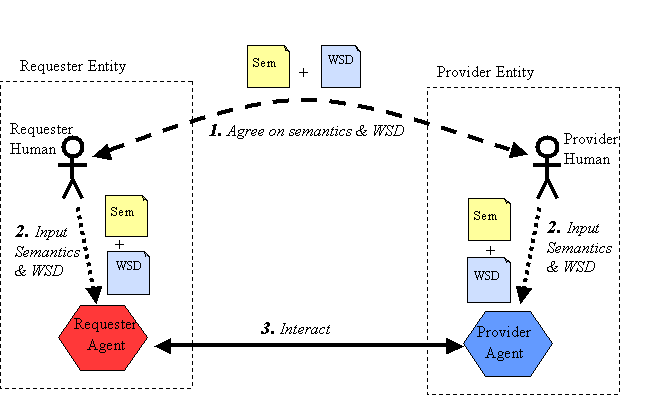 Web Service Technologies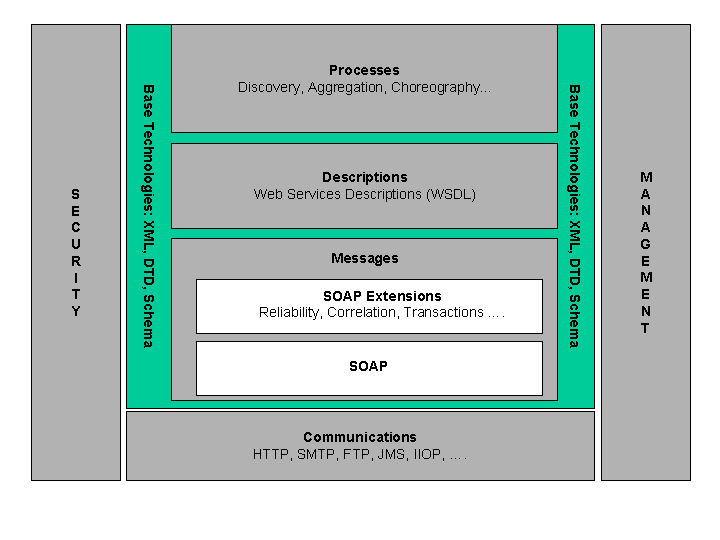 WSA Models
Message Oriented Model (e.g. message structure)
Service Oriented Model (e.g. services and related actions)
Resource Oriented Model (identification of resources)
Policy Model (constraints like security and QoS)
Management Model (relationship of deployed elements)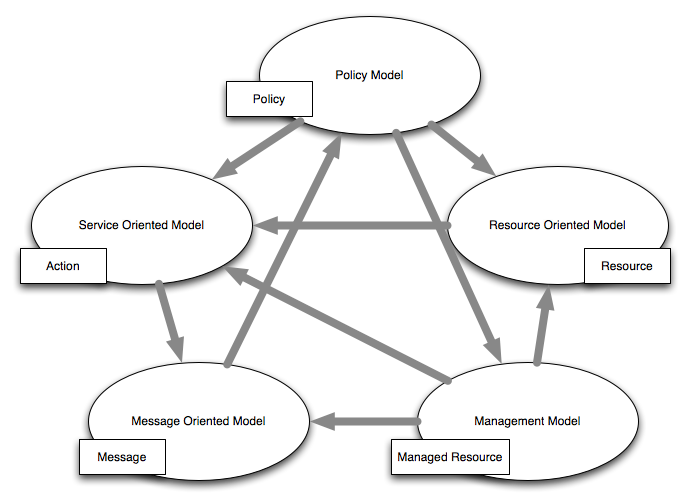 Message Oriented Model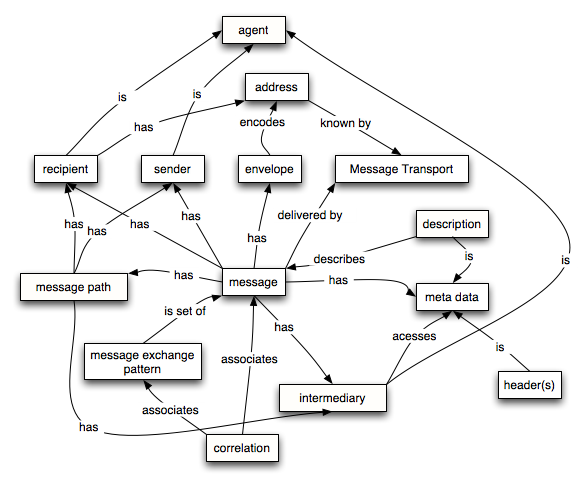 Important Definitions
Correlation is the association of a message with a context. Message correlation ensures that the agent requesting a service execution can match the reply with the request, especially when multiple replies may be possible.
A message is the basic unit of data sent from one software agent to another in the context of Web services.
A message envelope is that meta-data associated with a message that permits the message to be delivered, intact.
A Message Exchanage Pattern (MEP) is a template, devoid of application semantics, that describes a generic pattern for the exchange of messages between agents.
Service Oriented Model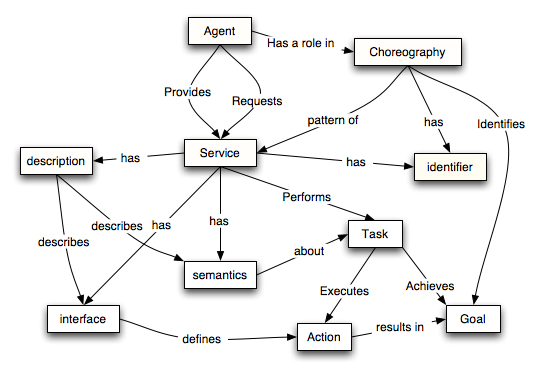 Important Definitions
An action, for the purposes of this architecture, is any action that may be performed by an agent as a result of receiving a message, or results in sending a message or other observable state change.
A choreography defines the sequence and conditions under which multiple cooperating independent Web services exchange information in order to achieve some useful function.
A service is a set of actions that form a coherent whole from the point of view of service providers and service requesters.
The semantics of a service is the contract between the service provider and the service requester that expresses the effect of invoking the service. A service semantics may be formally described in a machine readable form, identified but not formally defined or informally defined via an `out of band' agreement between the provider and the requester.
A service task is a unit of activity associated with a service. It is denoted by a pair: a goal and an action; the goal denotes the intended effect of the task and the action denotes the process by which the goal is achieved.
Resource Oriented Model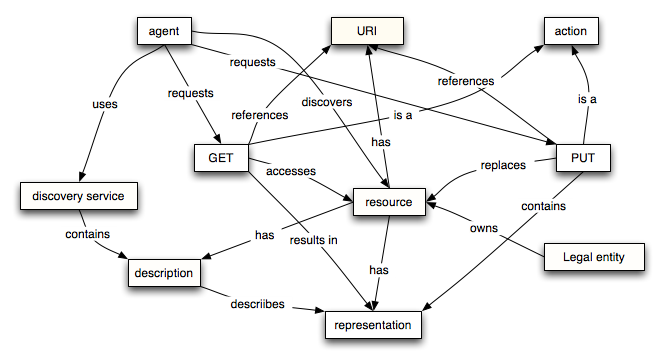 Important Definitions
Discovery is the act of locating a machine-processable description of a Web service that may have been previously unknown and that meets certain functional criteria. A discovery service is a service that performs the above discovery; of particular interest are discovery services that permit the discovery of Web services.
Policy Model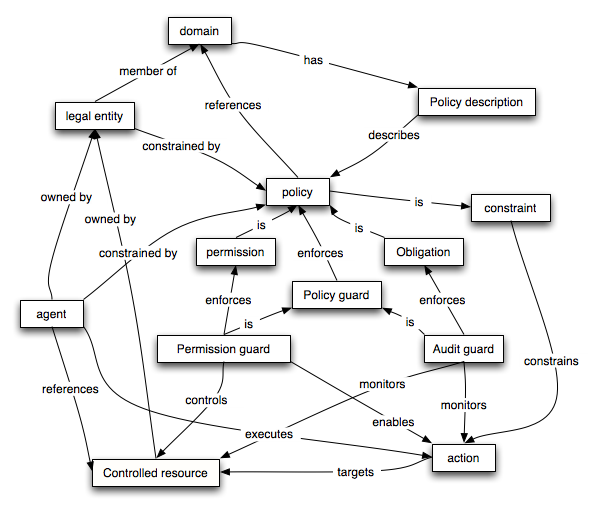 Important Definitions
An audit guard is a mechanism deployed on behalf of an owner that monitors actions and agents to verify the satisfaction of obligations.
A permission guard is a mechanism deployed on behalf of an owner that enforces permission policies.
A policy is a constraint on the behaviour of agents.
A policy guard is a mechanism deployed on behalf of an owner that enforces a policy (or set of policies).
Management Model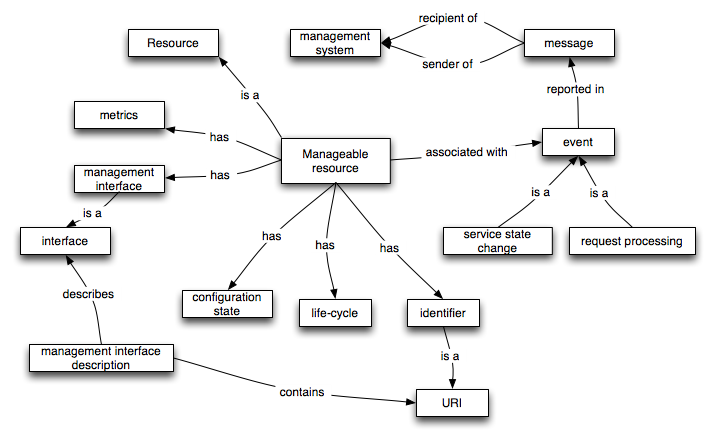 Important Definitions
A deployed resource is a resource that exists in the physical world. There are many kinds of deployed elements, including agents, services and descriptions.
A management configuration is a collection of properties of a manageable elements which may be changed.
Events are changes in the state of a manageable element that are relevant to the element's manager.
Bibliography